The First All-Electric Chevrolet
SILVERADO EV
Is Coming To Urbana, OH At SVG Urbana
CHARGE UP YOUR IMAGINATION
Smart. Agile. Aerodynamic. Fast. This is not the truck that comes to mind when you talk about typical SVG Urbana trucks. It is a game-changer in the world of trucks and it is wrapped in modern technology with innovation at every turn.
UP TO
400
Mile Range
Mile Range GM-ESTIMATED ON A FULL CHARGE
OVER
660
HP
HP WITH WIDE OPEN WATTS*
UNDER
4.5
Seconds
Seconds 0 to 60 TIME WITH WIDE OPEN WATTS*
OVER
780
LB.-FT.
LB.-FT. OF TORQUE WITH WIDE OPEN WATTS*
WELCOME TO THE SEISMIC SHIFT.
SUPER ULTIUM PLATFORM
The Electric Chevrolet Silverado is designed to hand power to the driver. The Ultium platform is the future and it is in the Silverado to power this futuristic truck and provide exhilarating performance with zero emissions.
Ultifi
General Motors has new software, Ultifi, that is about to revolutionize automobile software and change how the vehicle services you and the experience you get. The software is built to allow seamless upgrade delivery, and customization, and provide a range of modern apps on-demand with room for software improvements.
SILVERADO EV RANGE: SAY HELLO TO DRIVING CONFIDENCE
The new Silverado EV gives you up to 400 miles of electric driving range. There are many charging options to make sure that the truck has enough charge to take you to your next adventure.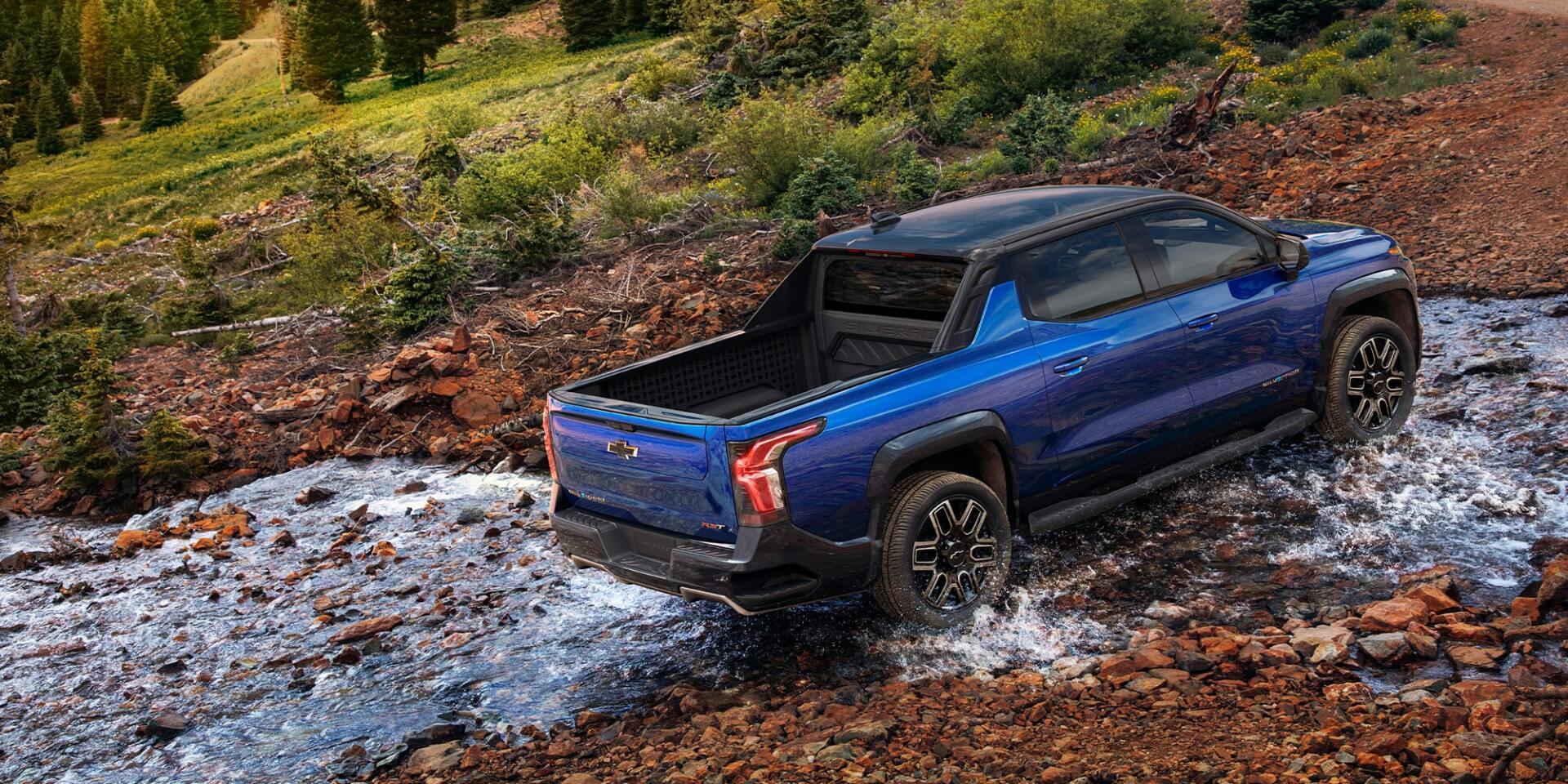 SILVERADO CHARGING
CHARGE AT HOME
You can easily charge your Silverado EV from the comfort of your home. There is an available Level-2 charging that gives you optimal charging at home (you will require professional installation). This is enough charging for daily driving needs. There is a Level-1 charging system that provides a backup in case you need one. Either way, you will get a full charge and drive up to 400 miles.
CHARGE ON-THE-GO
Charging on the move is as easy as spotting a charging station, pulling in, plugging in, and charging the truck. There are more than 43,000 public charging stations across the country and this means you will find one along your journey. myChevrolet Mobile App comes with Energy Assist which can help you plan your route as it shows where charging stations are located. For faster charging, you can try the DC Public Charging which gives an estimated 100 miles of driving in only 10 minutes of charging.
ENERGY ASSIST
Planning your drives is now easier with Energy Assist that comes with the myChevrolet Mobile App. The feature assists you plan your route by giving you information about compatible public charging stations in your route or near you. The app also allows you to use other features in the vehicle and you can check the battery status, set charging reminders, and make payments for the charging on your smartphone.
AN EV WORTHY OF THE SILVERADO NAME
The new E-4WD system can provide near-perfect instantaneous torque to the truck's four wheels at the same time. The Silverado EV combines modern technology with cutting-edge innovation and mastery in the construction of strong trucks to provide a futuristic truck that lives up to its legendary brand name.
EASIER TURNING
Charging on the move is as easy as spotting a charging station, pulling in, plugging in, and charging the truck. There are more than 43,000 public charging stations across the country and this means you will find one along your journey. myChevrolet Mobile App comes with Energy Assist which can help you plan your route as it shows where charging stations are located. For faster charging, you can try the DC Public Charging which gives an estimated 100 miles of driving in only 10 minutes of charging.
PARK LIKE A PRO
The Silverado is designed to make you a better driver at every turn. Look like a pro when parking your truck or getting out of a tight parking spot.
SILVERADO EV TOWING AND TRAILERING
The Silverado EV has improved handling and enhanced maneuverability to make sure you tow and trailer with confidence. The Silverado will have up to 14 available cameras for better viewing. The truck will have towing capabilities of up to 10,000 lbs with this going up to 20,000 lbs. available on a future model. This will give you more confidence to hit the road and bring what you love with you.
SMOOTH DRIVING WITH MODERN SUSPENSION/h2>
CHARGE AT HOME
SUPER CRUISE™ DRIVER ASSISTANCE TECHNOLOGY
The available Super Cruise Driver Assistance introduces you to the world of hands-free driving. Enjoy the freedom of hands-free driving with over 200,000 miles of compatible roads across the U.S. and Canada.
*Always pay attention while driving and when using Super Cruise. Do not use a hand-held device. Requires active Super Cruise plan or trial. Terms apply. Visit chevysupercruise.com for compatible roads and full details.
CHEVROLET SILVERADO EV INTERIOR
The Silverado EV welcomes you to a modern interior with a 17-inch diagonal free-form screen, Google built-in integration, and a spacious console. The truck gives you necessities that you will always want in every drive.
CLEARER VIEWING
The 17-inch diagonal free-form screen displays all the info you need in style and where you need it. The screen fits perfectly in the interior of the truck and makes it look cool.
HEY GOOGLE
The Google built-in that comes with the Silverado EV makes your digital life smoother. You will have a full connection to your life when driving and you will have Google Play, Google Maps, and Google Assistant to help you.
LARGER CONSOLE
Since the Silverado truck is electric, the space that is occupied by the transmission tunnel is now available for use. This has resulted in a larger console that gives you more storage space.
VIEW THE WORLD
The Silverado EV comes with a panoramic fixed-glass roof that gives you a great view of the sky and brings natural light into the cabin while filtering harmful rays.
MULTI-FLEX MIDGATE WITH PASS-THROUGH
The multi-flex midgate with pass-through goes all the way so you don't have to. This gate creates more space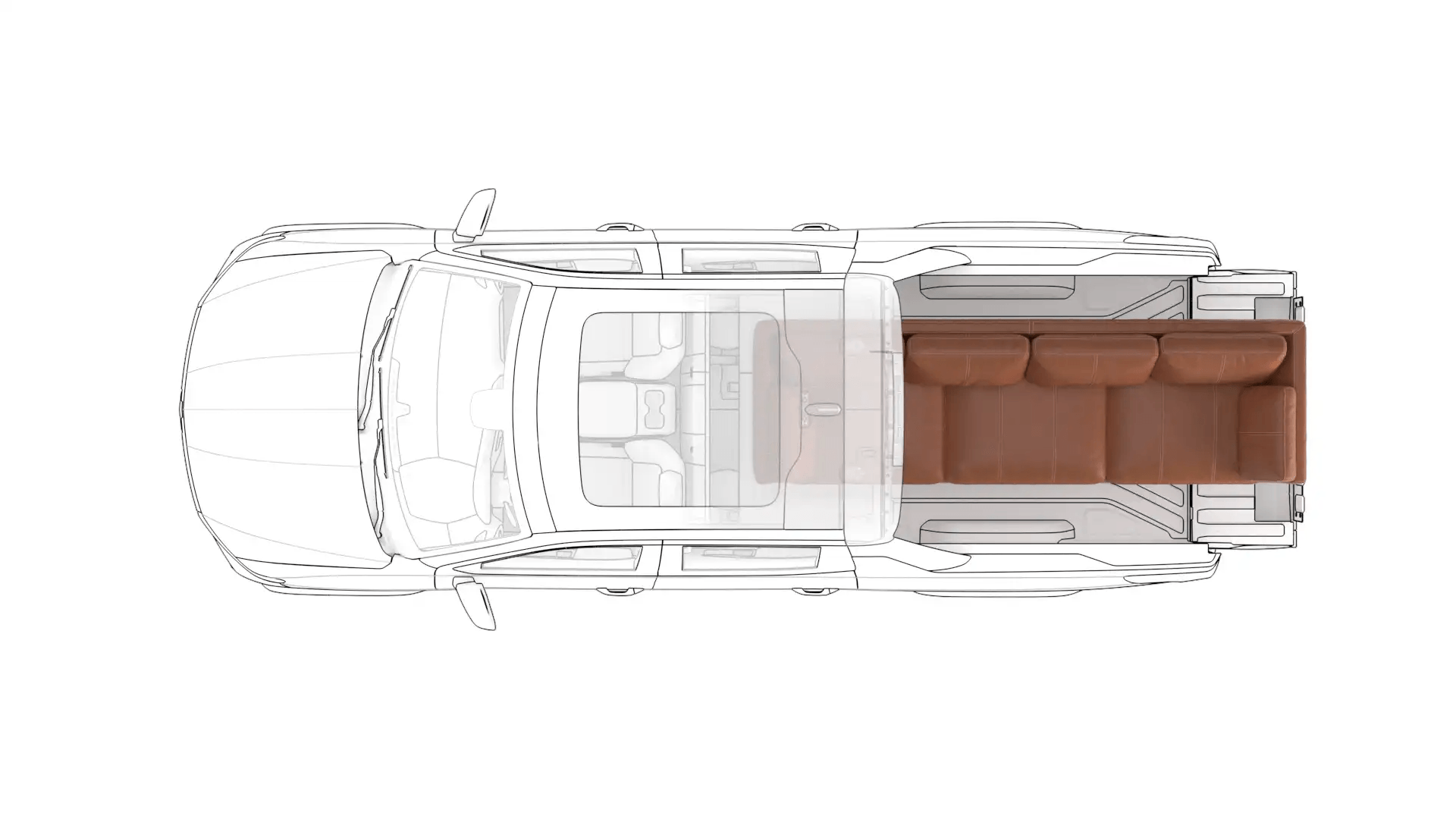 MORE ITEMS
You can now fit more items at the back of the truck with space up to 10 feet 10 inches. The midgate with pass-through extends the space available on the back and the Multi-Flex Tailgate comes with a load stop.
MULTI-FLEX TAILGATE
The Silverado EV comes with a Multi-Flex tailgate that helps you do things with ease. The tailgate has 6 different functions all designed to make getting on the cargo bed, loading, and unloading an easy task. The tailgate has the primary gate that you easily open with the button on the gate, a switch inside the truck, or from the key fob. There is a primary gate load stop that helps protect cargo from sliding out. The inner gate folds down allowing more space to reach further into the cargo bed. This fold can further create a step that allows easy climbing and can hold up to 375 lbs. You can close the primary gate with this step-down and the inner gate will provide more space for cargo with the load stop unfolded. With the load stop folded, the inner gate can be used as a work surface to place laptops or blueprints.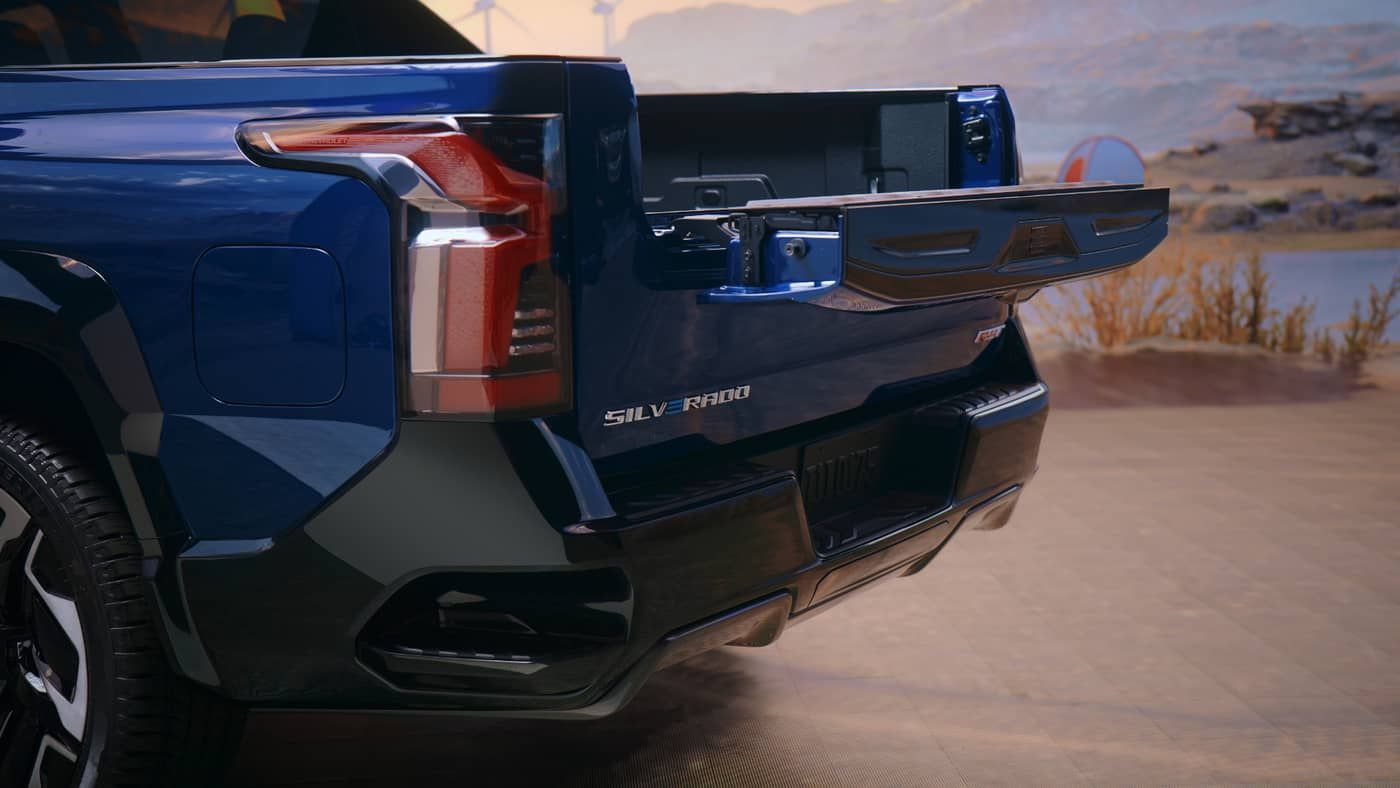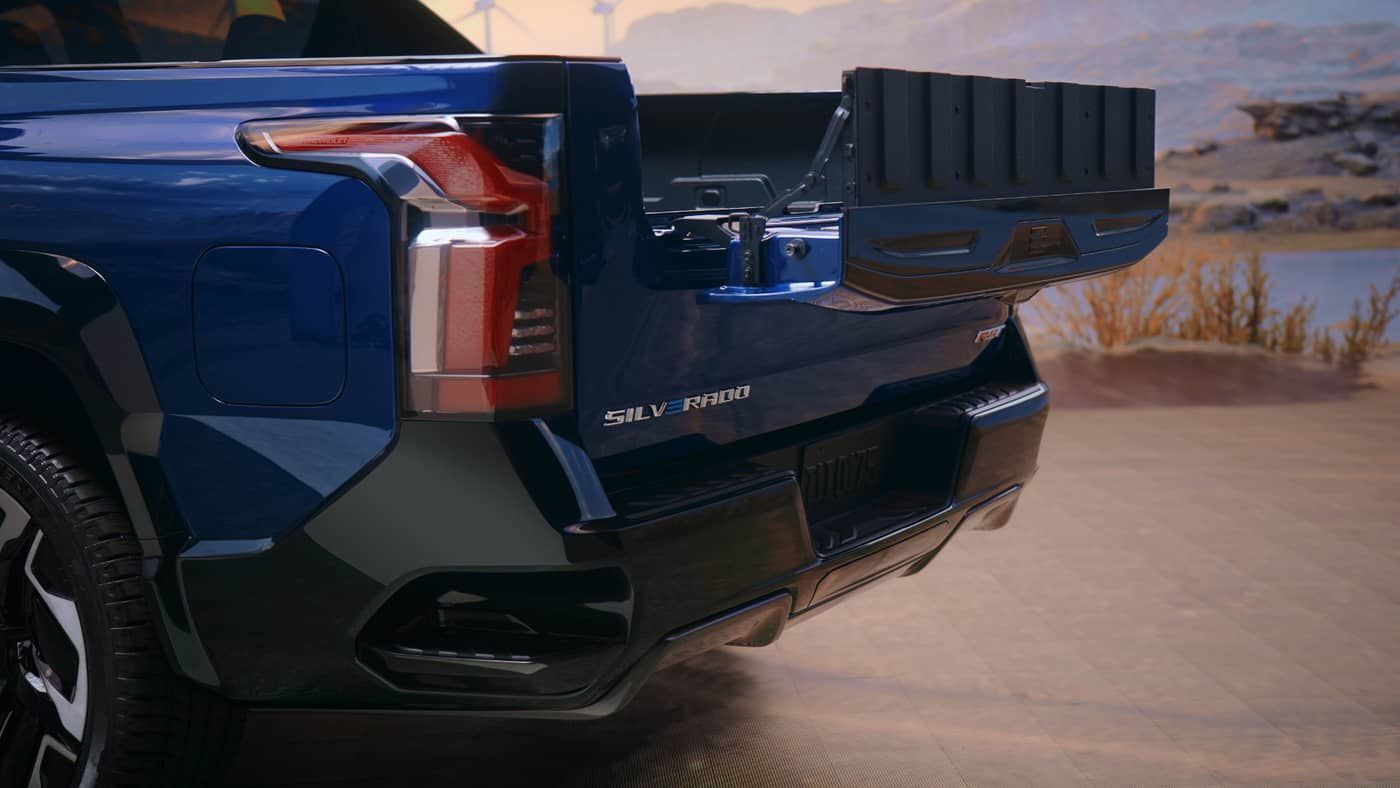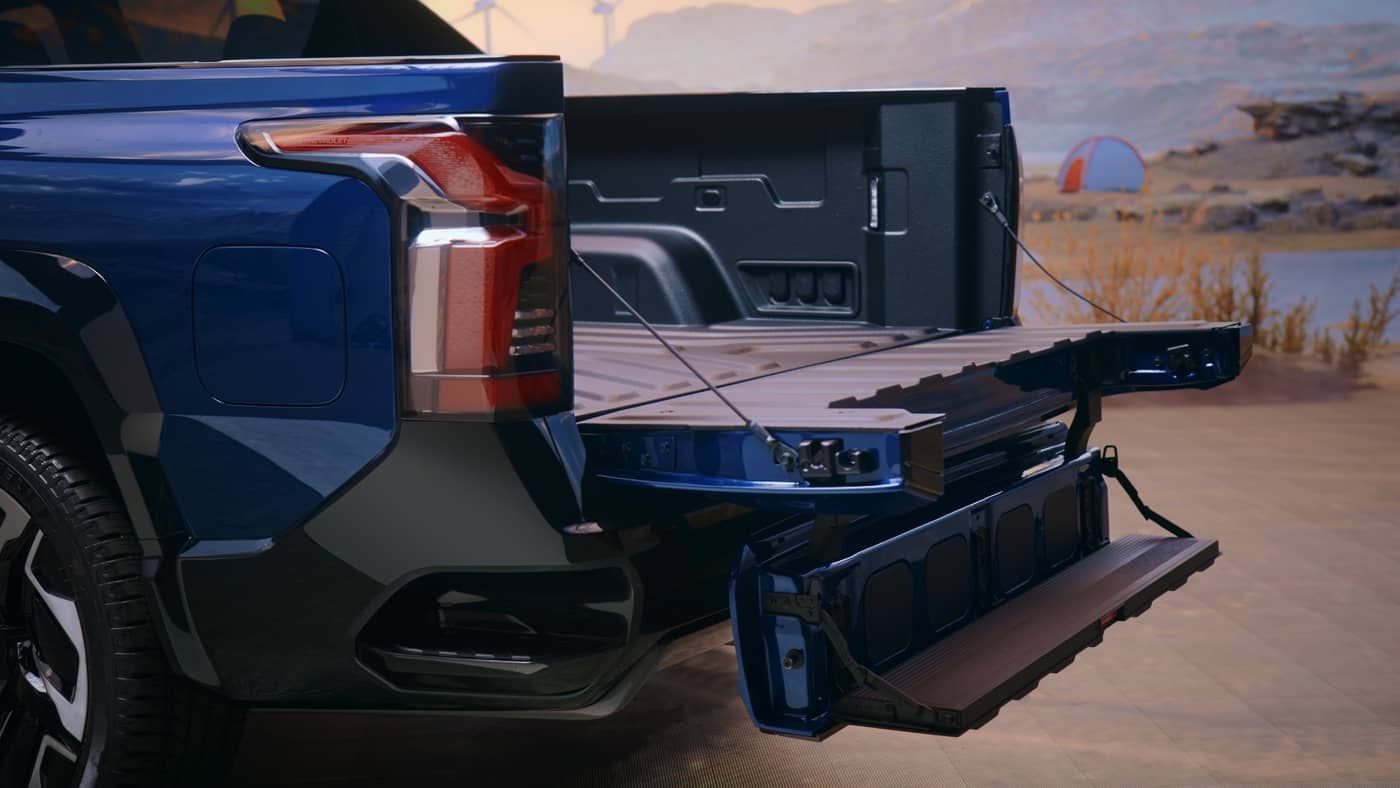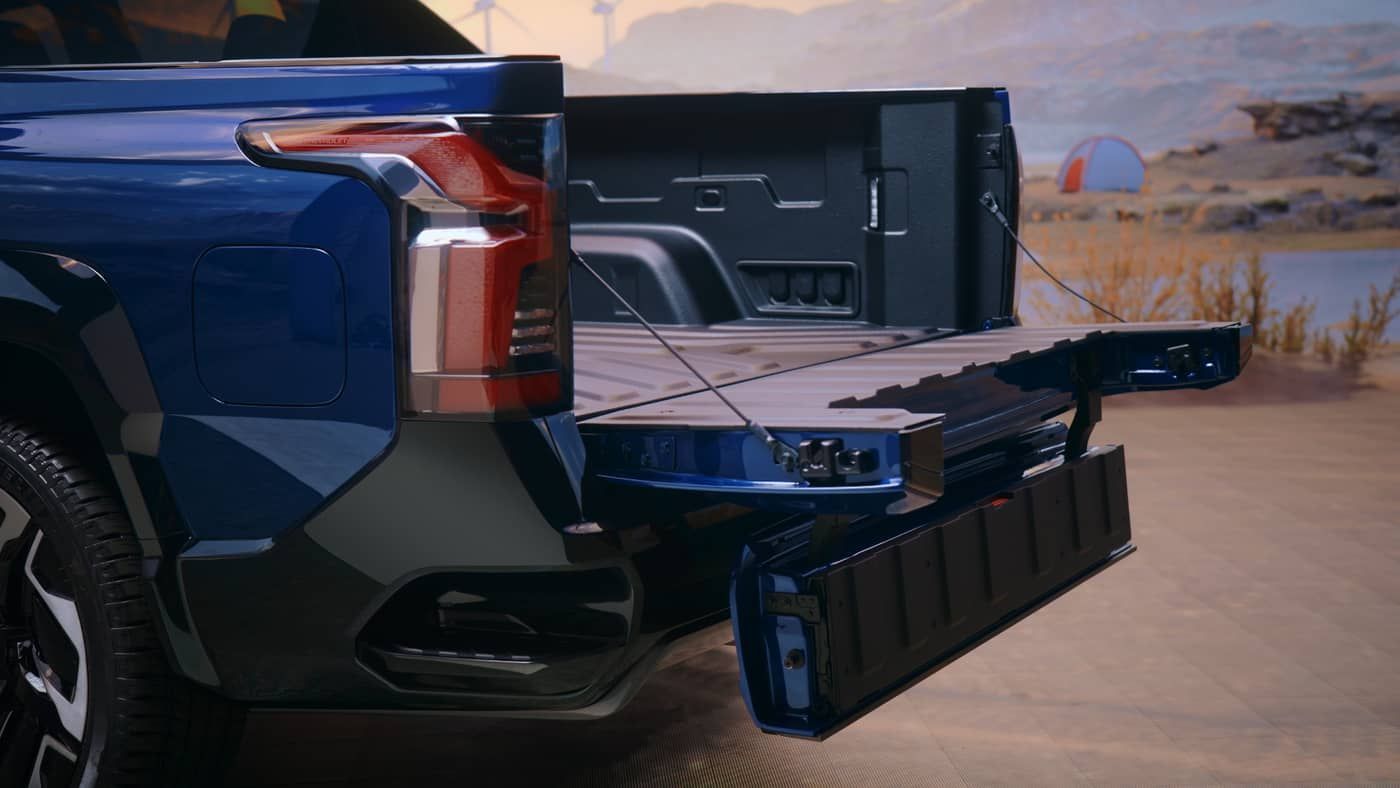 UNDER THE HOOD
The Ultium Platform replaces the gasoline engine and this creates more space. Under the hood, you have more storage for your stuff. This is the first time the Chevrolet truck has a trunk in the front.
SILVERADO EV SLEEK EXTERIOR. READY FOR ANYTHING
The Silverado EV has an aerodynamic design that gives vibes that depict the truck as being ready for any adventure. The modern lighting completes the futuristic electric vehicle look and the available 24-inch aluminum wheels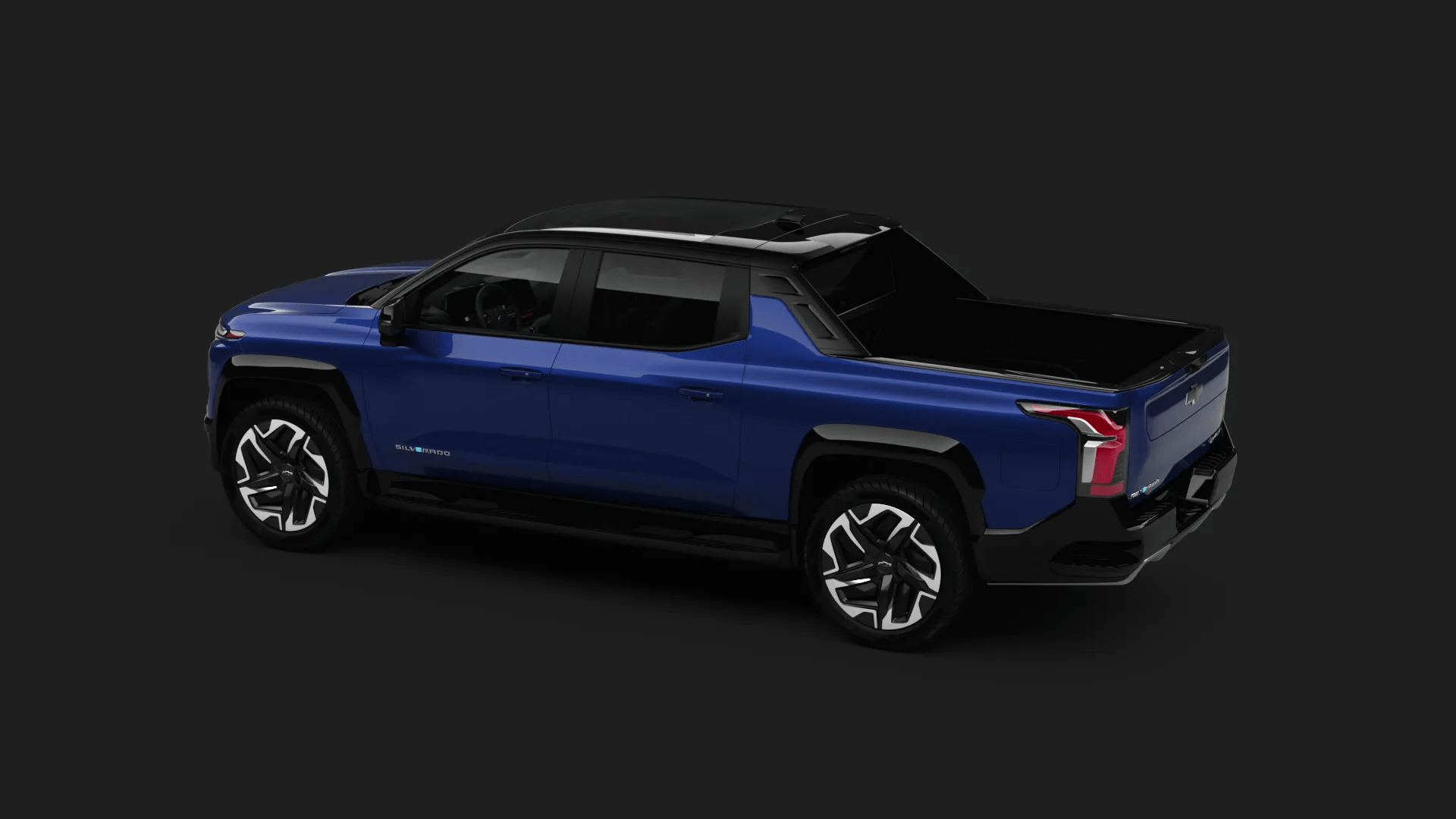 SILVERADO EV STANDARD SAFETY FEATURES
The Electric Silverado has standard Chevy Safety Assist and safety features to give you the driving confidence you need every day.
AUTOMATIC EMERGENCY BRAKING
At speeds below 50 mph, the Automatic Emergency Braking system detects the vehicle ahead and will provide an alert, and the front camera is used to provide emergency braking or enhance hard braking in case there is a possible collision. This helps prevent the collision or reduce the severity.
FRONT PEDESTRIAN BRAKING
When driving below 50 mph during the day, this feature helps prevent or reduce the severity of frontal pedestrians if the system detects the pedestrian directly in front of the truck. The system will provide an alert and can automatically engage emergency braking or enhance hard braking initiated by the drive.
*It has limited nighttime and low-visibility performance
LANE KEEP ASSIST WITH LANE DEPARTURE WARNING
The system uses a gentle steering turn that alerts you if it detects unintentional drifting from the current lane. The system might give a Lane Departure alert if needed. The alert will not happen if the turn signal is engaged or if it detects intentional lane departure.
FORWARD COLLISION ALERT
The forward collision alert will give you a warning if it detects a possible frontal collision with the vehicle ahead. It can also provide tailgating alerts if it detects that you are too close to the vehicle ahead.
INTELLIBEAM® HIGH BEAM ASSIST
This system turns the truck's high beam headlamps on and off by detecting the surrounding traffic.
FOLLOWING DISTANCE INDICATOR
This system provides the distance between your truck and the vehicle ahead in seconds and shows if you are too close.
*Safety or driver assistance features are no substitute for the driver's responsibility to operate the vehicle safely. The driver should remain attentive to traffic, surroundings, and road conditions at all times. Visibility, weather, and road conditions may affect feature performance. Read the vehicle Owner's Manual for more important feature limitations and information.
IT'S TIME TO MAKE YOUR MOVE: RESERVE THE ALL-ELECTRIC SILVERADO IN URBANA, OH AT SVG URBANA
SVG Urbana In Urbana, OH is a trusted Chevrolet dealership that provides accurate information about existing Chevrolet models and new models about to hit the market. Our sales team is ready to walk you through the features of the Silverado EV and help you get into one once it is available at our dealership. We will help provide the expected Silverado EV release date, estimated Silverado EV price or Silverado EV MSRP, future variations, Silverado EV battery range, Silverado EV towing capacity, and any other details that you might want to know about the new all-electric Chevrolet Silverado EV. Call us today or come by our Urbana Chevrolet dealership and let us help you get first in line for the revolutionary electric Chevrolet Silverado EV.