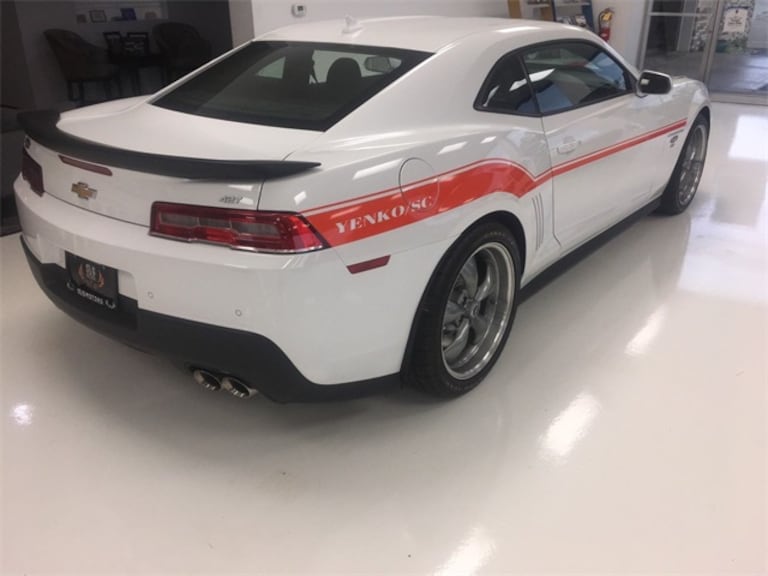 SVG Urbana has a 2015 Yenko Camaro in stock. We're pretty excited about this, and if you love horsepower, you should be, too. Let's take a quick tour through history so you get an understanding of just how special this fine piece of machinery is. Don Yenko was a legend and this car, is too.
Long ago in 1967, Chevrolet introduced the Camaro to compete with Ford's Mustang. Don Yenko, a racecar driver who owned a Chevrolet dealership, wasn't happy that Chevrolet mandated that the Camaro could have engines no larger than 400 cubic inches. You see, Yenko was a racecar driver. He loved speed and horsepower. He was particularly disheartened that the Camaro's direct competitors, the Mustang, the Plymouth Barracuda, and the Dodge Dart had no such restrictions. Not only was he competing with these cars for sales, he was competing with them on the track. Being the enterprising man that he was, Yenko ordered Camaros with the Super Sport (SS) package, and removed the engines from them. He stuffed them with 427 cubic inch engines that were intended for Corvettes. These modified Camaros were then sold to the public as "Yenko" Camaros.

Yenko discovered very quickly that there was a market for his modified Camaros, so he repeated his same experiment in 1968 and 1969 with much success. By 1970, Yenko had transitioned into selling performance parts and modifications through a catalog. There were no true 1970 Yenko Camaros, although owners could order parts from the Yenko catalog to increase performance on their rides.

The oil crisis that happened in 1973 lead to the American public seeking cars that were gas sippers. Because gasoline was being rationed in many states, large, gas-guzzling, strip-ready cars like the Camaro fell out of favor. As a general rule, having a daily driver with copious amounts of horsepower fell out of vogue for many decades.

Whether it's nostalgia, new advancements in engine technology, or a shift in buyer's attitudes, horsepower-heavy engines started making a comeback in the mid-2000's with the mass marketing of the Dodge Magnum. The Magnum's commercials showed that it was a versatile vehicle that could be used to haul families or lumber but could also pack a punch off a starting line. Dodge seemed to spark a trend, and most American auto makers began campaigns to produce vehicles capable of 380 horsepower or more. Chevrolet, who had been producing the Camaro consistently since 1967, wasn't about to be left behind and started using new technology to eek every little bit of power out of their motors as possible.

Enter a company by the name of SLP Specialty Vehicles. In 2014, they were feeling the need to produce something spectacular for the 2015 SEMA show. Every true Camaro enthusiast has a true Yenko Camaro on their "when-I-hit-the-lottery" wish list. Yenko Camaros fetch huge prices from specialty auto auctions such as Barrett-Jackson. Combining the desire to show up to SEMA with something outstanding, and wanting to reach the hearts of Camaro enthusiasts, SLP decided to resurrect the Yenko tradition and name.

Although Don Yenko had passed away in 1987 in an airplane accident, SLP secured the rights to use the name on 50 modified Camaros to be produced in 2015. Each of these Camaros was outfitted with a 427 cubic inch engine producing 700 horsepower. Every single one of the 50 produced received numbered dash plaques and special graphics packages that mimicked the look of the 1960's Yenko Camaros. These cars were so limited in production that they are highly sought after -- and highly valuable.

The
2015 Chevy Yenko Camaro
harkens back to a time when horsepower was king. It tugs at the heartstrings of every nostalgic Camaro lover, and it calls out to those who long to feel the raw power of 700 horses pulling you forward. Its sleek, clean styling in retro colors is the best of both worlds. It promises -- and delivers -- on giving its driver that feeling nostalgic prestige. Will you be the one to buy this authentic piece of history?
Call 937-548-7643 to schedule a time to see the Yenko. You won't be disappointed!