GMC introducing first-of-its-kind carbon fiber bed box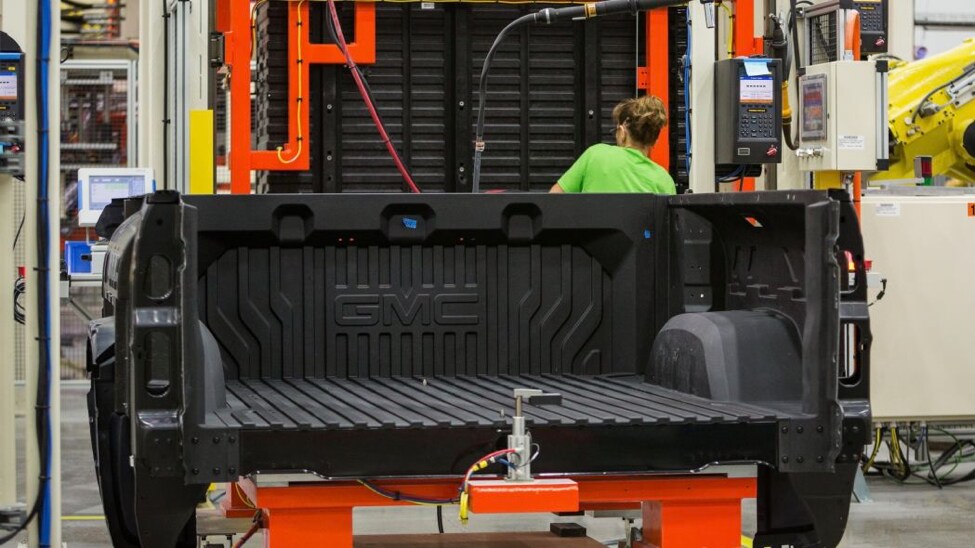 According to Wikipedia, Carbon Fiber "has several advantages including high stiffness, high tensile strength, low weight, high chemical resistance, high temperature tolerance and low thermal expansion. These properties have made carbon fiber very popular in aerospace, civil engineering, military, and motorsports, along with other competition sports." Knowing that, it only makes sense that trucks owners would love to have this material in their truck beds for the ultimate in durability. GMC recognized this and is now offering carbon fiber bed boxes on the Sierra.

The carbon fiber bed has several benefits to owners, such as it being 62 pounds lighter than steel boxes and because it can be fitted tightly into the bed, it provides added cargo space.

Surprisingly, it takes several steps to prepare a carbon fiber bed. The beds start off as perfectly flat sheets of thermoplastic carbon fiber.

Next, the sheets are cut down to a specific shape and stacked together on a huge stamping press. From here, mechanical robots place the sheets onto a conveyor belt which delivers the sheets into a bake oven. The oven
's heat allows the carbon fiber to soften and become pliable.
Depending on which part of the bed box is being made, the sheets will either be fed through a 3,600 TON press or a 1,000 ton press. Yes, 3,600 tons...that's a lot of pressure!
After the press has molded the sheets into shape, the parts have some jagged edges which will be trimmed off using a waterjet. The waterjet will also cut any necessary holes for fasteners such as bolts and clips.


The rectangular sheets are cut to shape and stacked up at a giant stamping press. Robots pick up sheets and slide them onto a conveyor that goes into a large oven. The heat softens the parts so they can be stamped. The large primary bed parts such as the base are stamped by CSP's enormous 3,600-ton press, and the smaller ones go through a 1,000-ton press. Each press can do different parts using different stamping dies, and CSP switches between dies to produce different batches of parts. After stamping, the parts roll out mostly ready for assembly, but there are rough edges that are trimmed off by water-jet cutters. These cutting machines also create holes for fasteners and for parts such as tie-down hooks and lights.

A few more steps are required to produce the finished product and they include applying special glues and fasteners. After this process is done, the boxes are ready to be installed in the Sierra.
The Sierra is not only a good looking truck, it's got excellent technology, lots of creature comforts and at SVG, a Superior Value Guarantee. Why not schedule a test-drive of a Sierra today? Call 937-548-7643 to learn more about the Sierra!